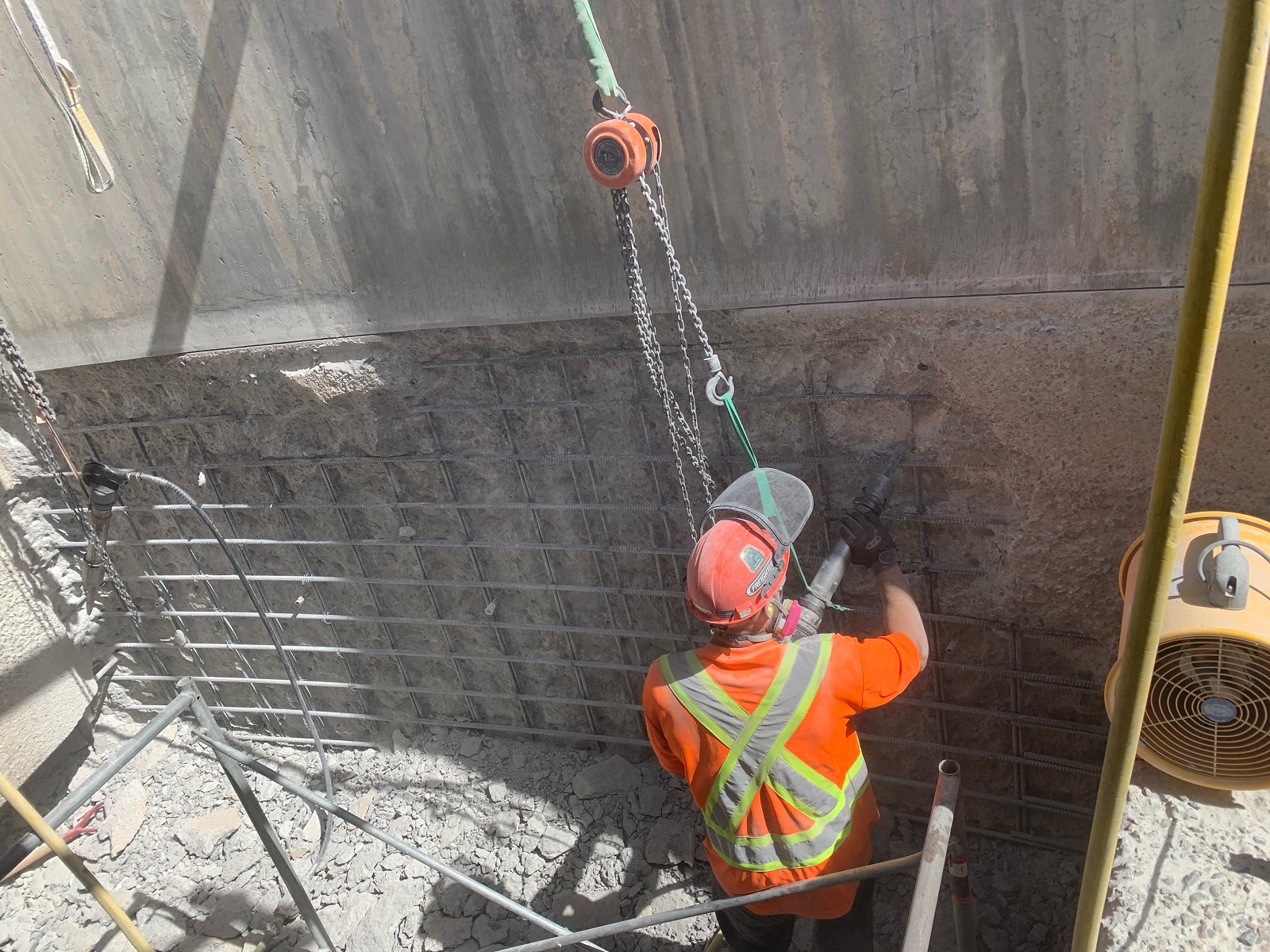 Concrete Repair
Chip and patch.
Chip, form and pour.
Epoxy injection.
Chemical grouting.
Cutting and coring.
Corrosion repair.
Repair, patch, fill, seal and restore concrete to increase the durability and life span of the concrete structure. If a concrete structure is exposed to the elements, external damage or was poorly constructed, chances are it will eventually need repair. Stressors like water ingress, dynamic or static loads, building shifts due to freeze/thaw cycles and more can cause damage to your concrete project. Concrete repair can be completed with a variety of cementitious materials and methods. Cementitious materials include hydraulic cement and supplementary cementitious materials (SCMs). Depending on the size of the project, a hydraulic cement mixture can be used or if thermal cracking is a risk for larger structures then SCMs are used in conjunction with a hydraulic cement. Repair methods include: chemical grouting, corrosion repair, cutting and coring, epoxy injections and more.
Learn More About Concrete Repair
Concrete Corrosion Repair
Corrosion is inevitable in concrete structures and there is a variety of ways they can be repaired, depending on the diagnosis. Usually, any loose or contaminated concrete will be removed then rust from the rebar will need to be completely removed. This is followed by applying an anti-corrosion treatment to the steel and then restoring the concrete.
Concrete Crack Repair
Weather conditions, pressure and time can all lead to concrete cracks. Repairing concrete cracks may include using chemical grouting methods, or simply patching and filling the concrete with a compound, liquid or other cementitious material that is most suitable for the unique project.

Chemical Grouting
Chemical Grouting helps repair, patch, fill and/or seal any cracks or holes in concrete structures. This will help to restore your concrete structure and help prevent any further damage and deterioration.

Epoxy Injection
Epoxy injection is an economical method to repair certain types of concrete cracks that can restore the concrete structure's original strength.

Pressure Grouting
Pressure grouting is an economical way to repair concrete structures where cemenitious material is injected into the structure. This method is often used in concrete foundations, bridges and other large concrete projects for strengthening, prevention and/or to correct faults.